Creative Tips When Space Is Limited
Bathroom design and installation is a delicate balance between function and form. Often, any improvements have to be made with space limitations in mind. These limits can be seen as creative fuel. Here are some design ideas for a small bathroom that anyone can accomplish in their bathroom to leverage space and open things up.
Storage Concepts For A Small Bath
A smaller bathroom needs to maximize storage. A vanity mirror with a cabinet behind it is a good start, but a sliding mirror is a classy upgrade too. Elevated cabinets above the mirror can keep the sink uncluttered, an easy problem to fall into that makes the bathroom feel more disorderly than it actually is. Open corner shelves are easy to access and can be used for toiletries, knick-knacks, and more.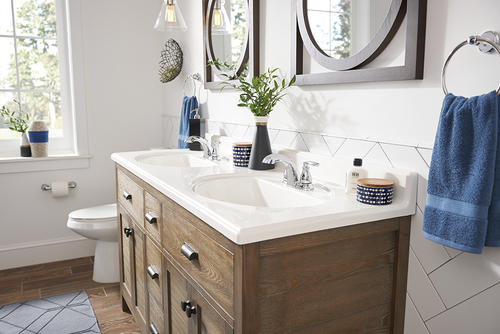 Live Art - Design Ideas For A Small Bathroom
Instead of generic art pictures, a live plant can make the bathroom a much more pleasant space. A flower can serve a dual purpose as a scenting device as well. A plant behind the toilet, lining the windowsill, or a small plant on the sink is a nice touch that guests will notice. Go for a green, leafy plant to foster a natural setting, or live flowers for a nice flair of color.
Lighting Can Create The Look Of "Space"
Bathroom design and installation isn't always about adding, but rather about creating the appearance of spaciousness. Clear, bright lighting that is reflected with warm colors creates a friendly environment that distracts from lack of size. A small window can also project a larger room. A dark bathroom may suggest a closed, dirty space.
Upgrading existing mirrors can make the room feel centered. An oval mirror with gold trim gives any room a hint of regality, while a metallic frame matches darker tones well. Similarly, glass shower doors create a welcoming tone and can be easier to clean. Sharp, glass angles, such as a mirror with no trim that is framed by the wall color, are a strong start for a modern look.
Bathroom design and installation is fun because smaller changes can have a significant impact on the mood of the room. Working within four confined walls requires creativity and inspiration. Reach out to Gerome's design center for more inspiration or installation.