Backyard Covered
Patio In Solon
Built To Entertain
When it comes to outdoor entertaining, often the design details can transform the project into something special. Such was the case in Solon with our customer choosing to incorporate "Knotty Pine" into the design. The 30'x30′ backyard covered patio structure had a vaulted ceiling and supporting posts – all dressed with fresh milled lumber from a select supplier in Middlefield, Ohio.
Custom Deck Designs
And Elegant Patios
Dreaming that perfect outdoor event space starts with a design consultation at Gerome's. Our consultants can help create a truly functional backyard space that family and friends will enjoy for celebrations to come.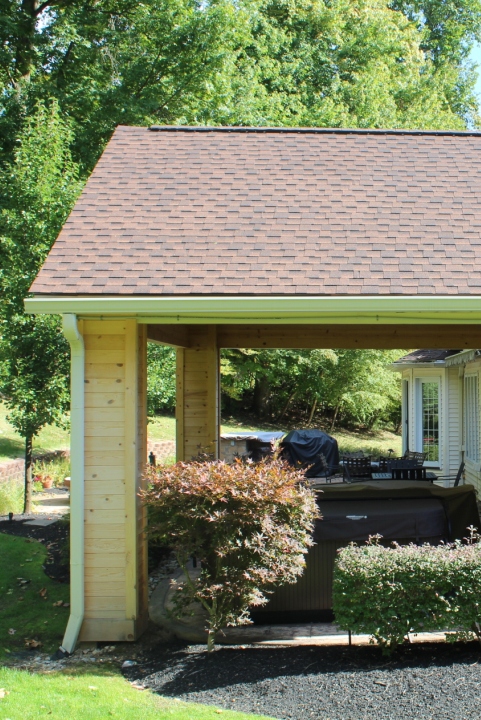 Structural integrity is the hallmark of a Gerome's exterior addition. The design team built a foundational concrete footer, solid post support, and weatherized the project with gutters, downspouts, and a high-grade shingle roof.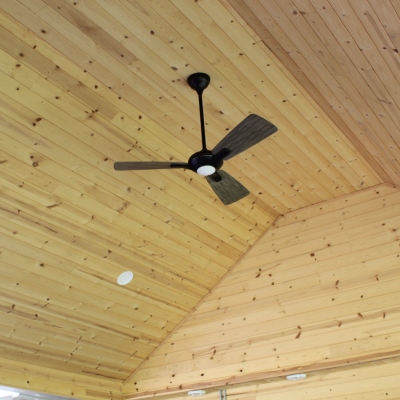 Creating a design "conversation piece", our craftsmen installed a tongue-in-grove knotty pine ceiling inside the patio canopy. We added recessed lighting and a center-mount ceiling fan for function and comfort.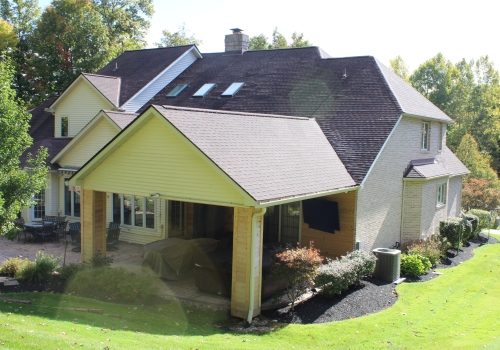 Elegant Backyard Covered Patio
Gerome's attached this outdoor covered patio to the main home structure creating the ultimate outdoor entertainment setting. The space was completed with classic propane grill, hot tub, and flat-screen video monitor.
Custom Estimates On Decks And Patios
Thanks to our experienced team and our state-of-the-art equipment, Gerome's Kitchen and Bath is the obvious choice for all of your home remodeling solutions. Clevelanders have trusted us for custom renovation and installation for over 60 years. Contact us for a list of references, or request an outdoor estimate to have us start on your home remodeling project today!
See Our Gallery Of
Deck And Patio Designs
At Gerome's Kitchen and Bath, our team brings the same professionalism and creativity to our outdoor designs. View the galleries of some on our patio and deck designs below. Then, reach out to us to begin discussing your custom exterior project.