Just because your bathroom isn't the first thing people see when they come over, doesn't mean that you shouldn't have a nice one. Think about it, we spend some quality time in our bathrooms, and it is always nice to be comfortable. Not only that, but a well-appointed bathroom can increase the overall value of your property. Since bathrooms are usually smaller than average, it's easy to think that bathroom redesign will be a breeze. The truth of it is, not everyone can get a handle on toilet installation. Unless you're experienced with the ins and outs of installation, plumbing, tiling, and interior design, it is probably a good idea to let the professionals handle it. The good news is that there are certain things you can do to prepare and educate yourself about bathroom design.
If you are considering a bathroom remodel, there are a few things you should ponder before you take the plunge:
Get Realistic About The Cost
There is nothing worse than mentally preparing yourself for a big remodel, only to find out that your expectations about the budget aren't realistic. It pays to do some research beforehand and formulate a good understanding of what you're interested in doing, and what that might cost—before you even reach out to a contractor. This will give you a realistic understanding of what to expect when you start making plans and also means that you won't be unpleasantly surprised later on down the line. If you find that your bathroom remodel will be more expensive than you initially thought, that's no reason to flush your plans. The national website Houzz offers some tips here that might be useful when getting started. It might be a good idea, however, to discuss things with a professional in order to see where compromises can be best applied.
Pick Your Bathroom Redesign Battles
Most bathrooms already have good and bad features. Sometimes it can be to your advantage to leave some of the original fixtures intact. Vintage never really goes out of style, after all, and leaving a few classic touches can accentuate the updates and upgrades you install. By choosing specific features to focus on—say installing a new shower, but leaving the sink alone—you can not only update your bathroom's look piecemeal but also find harmony between the old and the new. This allows your bathroom redesign to still fit in with the rest of your home while affording you the comfort and style of a newer fixture and look. In other words, don't be afraid to take it slow. Those vintage tiles aren't going anywhere, after all.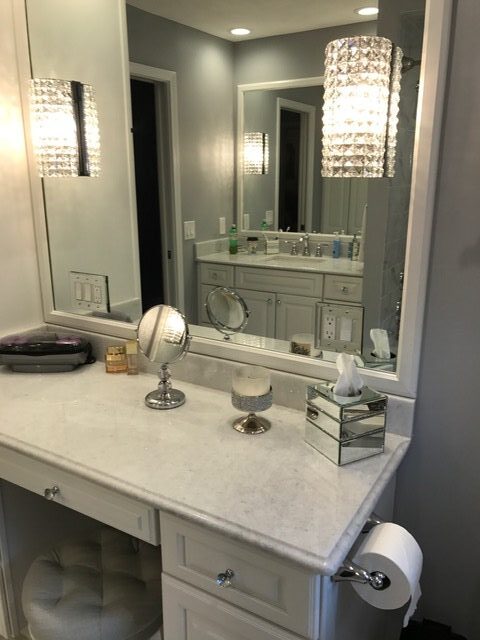 Take the time to measure out your bathroom. If you have a realistic idea of your bathroom's dimensions, you will not only be better informed but can also play around with new ideas within that space. For example, have you considered a corner sink to save space? Or a walk-in shower? By having an accurate knowledge of the space you're remodeling, you will be better able to make good decisions regarding hardware replacement. You might even consider using some graph paper to make a scale map of your bathroom's interior. This can allow you to move around different elements from a blank slate.
Once you've got a handle on the basics, it's definitely time to call in an expert and get the ball rolling. If you are looking for affordable, experienced, and knowledgeable remodeling professionals, contact Gerome's Kitchen And Bath.