Mary Beth Brockway had moved into her rural ranch home some 36 years ago. She had been planning two small bathroom remodel projects for her guest and master baths for some time.
"I have always wanted to have the bathrooms done. I had wanted to do it for eight years," Brockway said admitting she had even saved an old Plain Dealer advertisement from Gerome's Kitchen And Bath preparing to contact them.
When Mary Beth called Gerome's and met with President Marc Marvaldi, "we just clicked", she said. "I looked at some of the ideas he presented. I wanted something updated and comfortable." She said Marc took some needed measurements from the two rooms and was able to quickly provide an estimate.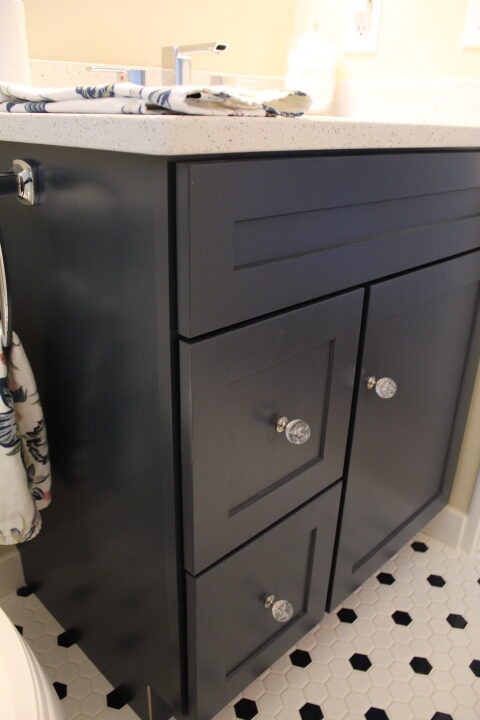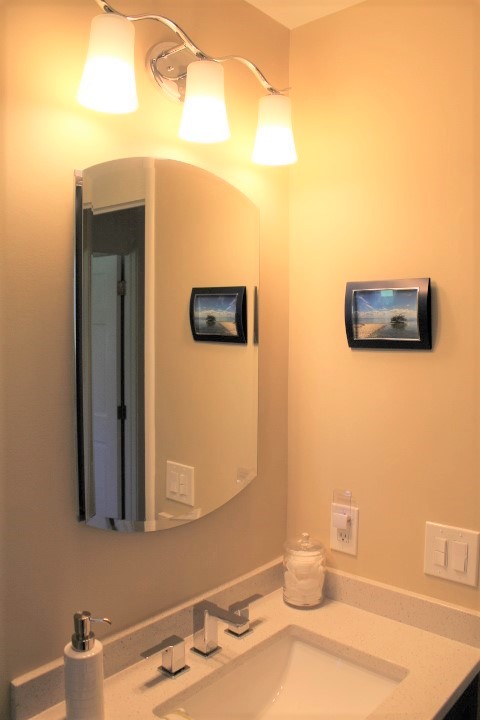 Small Bathroom Remodel – Creating "2 For 1"
Creating a design for the bathroom remodel was a bit challenging. Brockway's home contained two separate bathrooms, each with an entryway, countertop and toilet. Although defined as two rooms, the baths shared a common tub and shower unit. This layout was cumbersome and lacked privacy for guests.
The entryway for the guest bath was adjacent to the main living area. The master bath entrance was further down the main hallway. The two rooms shared a common wall backing both countertops and sinks. And a shower / tub unit was accessible toward the outer wall of the baths.
The goal – to create two independent bath areas within the same living space. The existing vanities needed to be replaced as they were small in height. Also, she hoped to brighten the look and available light. According to Mary Beth, "it was a total gutting" of the two rooms.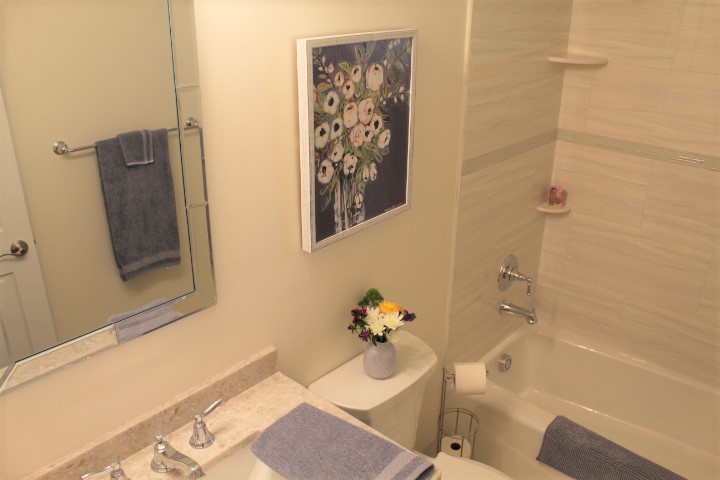 Gerome's Provides Expertise In Bathroom Redesign
"He seemed to know what was new and up and coming in the industry," said Brockway of Marvaldi's insight and design recommendations. Gerome's half-century reputation in the Cleveland market has helped them establish relationships with some of the leading brands in kitchen and bath products.
Mary Beth said she had some design ideas going into the project, but was impressed with the styles, options, and quality of some of Gerome's suppliers. She was specifically impressed and ultimately selected products from Bertch Cabinets, Daltile, Kemper Cabinets, and Virginia Tile.
Once elements and fixtures were picked, and a final design was approved, she said "things really got moving." Demolition took only one day, and Gerome's team of installers and specialists began creating her new elegant bathrooms.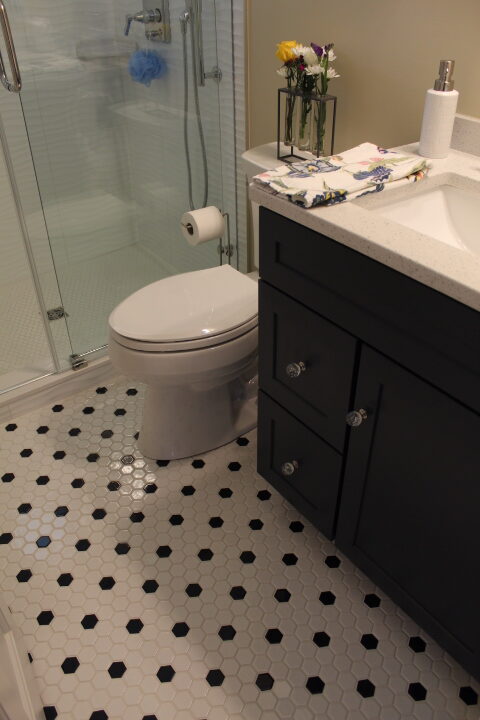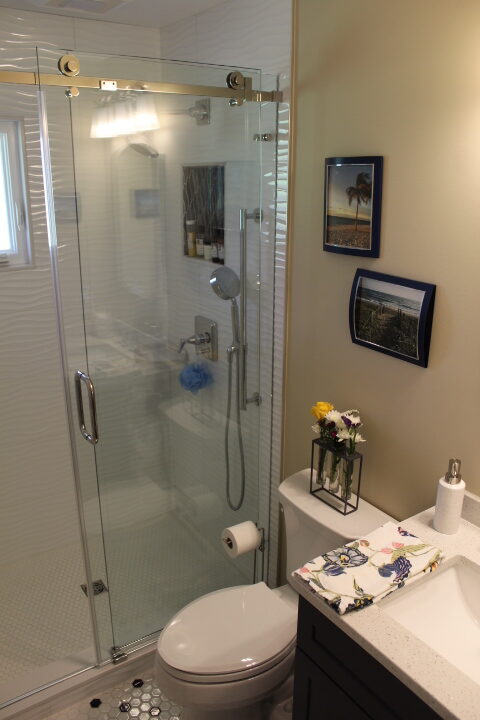 The Team Was "Methodical" With Tile Installation
Recognizing that not all bathroom remodelers offer the same service, Brockway said she was particularly impressed with the tile work done by Gerome's.
"They were a great team, "said Mary Beth of Gerome's tile installers. "They were methodical during their installation. They did an awesome job."
Gerome's tile team suggested using a patented Schluter waterproof system in the shower areas. This feature allowed for smooth installation of the new tile products, as well as provided a firm barrier for mold and moisture. A small increase in cost, but a recommendation Brockway appreciated and said she recognized  the long-term value.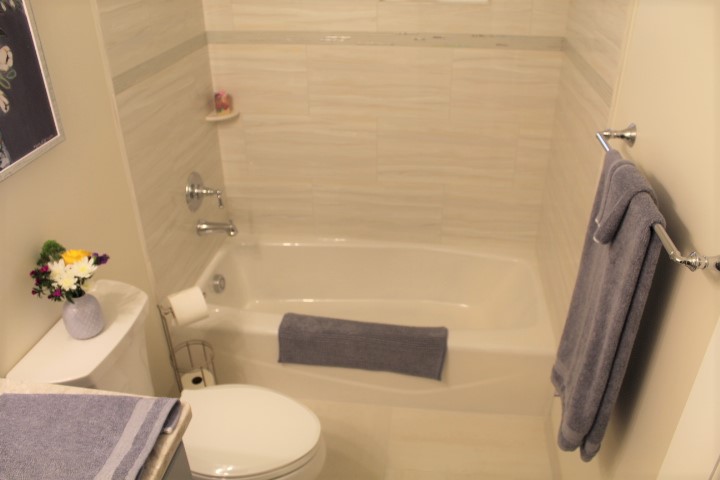 Reaction To The Bathroom Makeover
Family and friends have expressed nothing but praise for Mary Beth's new interior bathroom designs. "They are actually shocked" she said by the creativity of taking one joint room and now featuring two unique powder rooms.
Brockway concluded by expressing appreciation for the way the team at Gerome's Kitchen and Bath handled the entire renovation. She praised owner Marc for staying involved, checking in on workflow, and always willing to respond to questions.
"All the trades that worked on this project were friendly and professional," she added. "But more important, were respectful of my home and belongings.
For those who are ready to take on a bathroom remodel project, contact Gerome's Kitchen And Bath. For direct help with planning that small bathroom project, you may also visit our Design Center.