Top Kitchen Design:
Taking The Time To
Get It Right
For homeowner Lee Scantlebury, patience paid off. His story started with three other contractors before reaching out to Gerome's. The result of collaboration with our designer and installers – a top kitchen design that is quite a showpiece. Custom-stained red-oak flooring, beautiful new cabinetry, and a center island with "waterfall" granite countertop are just a few of the standout elements.
New Interior Designs
Kitchens And Baths
Dreaming that perfect indoor event space starts with a design consultation at Gerome's Kitchen And Bath. Our consultants can help create a truly functional space that family and friends will enjoy for family celebrations for years.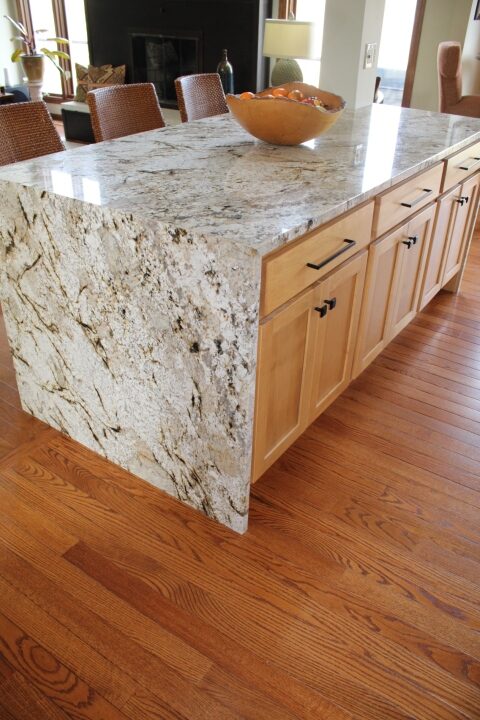 "Waterfall" Granite Countertop
A Top Kitchen Design
Our granite fabricators created this waterfall countertop on the kitchen's center island. This type of modification is one example of unique craftsmanship that is a Gerome's trademark.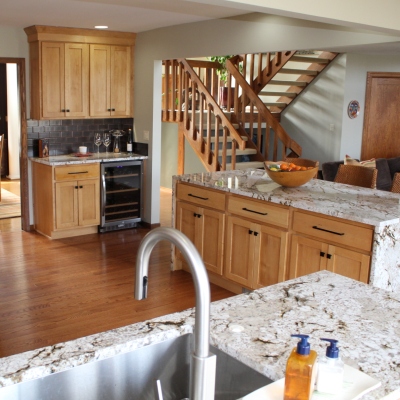 Creating an interactive layout is a key component of a good kitchen layout. Blending functionality with elegance sets this "makeover" apart. Spaces for eating, cleaning, and conversation are all components of this "top kitchen design".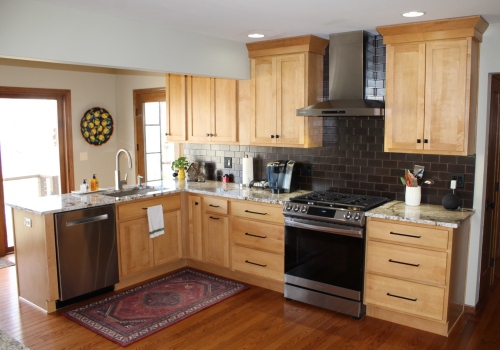 Gerome's team utilized Bertch Cabinets in this kitchen remodel. The line offers elegance, affordability, and many custom options including dinnerware inserts, sliding shelves, and more. 
Custom Estimates On Kitchen Remodeling
Thanks to our experienced team and our state-of-the-art equipment, Gerome's Kitchen and Bath is the obvious choice for all of your home remodeling solutions. Clevelanders have trusted us for custom renovation and installation for over 60 years. Contact us for a list of references, or request a kitchen estimate to have us start on your home remodeling project today!
See Our Gallery Of
Kitchen Designs
At Gerome's Kitchen and Bath, our team brings industry-leading professionalism and creativity to all our interior designs. View the galleries of some of our kitchen remodeling projects below. Then, reach out to us to begin discussing your custom design.
Read this customer's direct review of his kitchen remodeling project and his satisfaction in working with the team at Gerome's Kitchen And Bath.