Creating An Oasis -
A Key Bathroom
Remodeling Focus
The Whellers were looking for a contractor to work with in their Mentor On The Lake home. Their goal – to create a bathroom remodeling modern oasis. Their 90's style master bath was due for an upgrade, and the couple said they felt instantly comfortable with Gerome's and how the project was handled.
Master Bath Remodel
"Gerome's Pulled It
Off Beautifully"
Bruce and Lucille Wheller had purchased their home in 2005, and had taken on a number of renovation projects. Having hired several previous companies to assist them in remodeling, the couple said there "experience with Gerome's has been better than with any other contractor."
"Anything we've asked to do he's been great.  Marc (Marvaldi, president) stops out and checks on things." He was also responsive when they had questions or wanted to consider project alterations.
The Wheller's consultation with Gerome's Kitchen And Bath began in May 2020.
"We wanted to do something more modern. From the design stage in their Willoughby office and throughout the build, we felt super comfortable with how things were handled," they said.
"It's hard to find a design build firm that you feel has the same vision that you do. Gerome's pulled it off beautifully."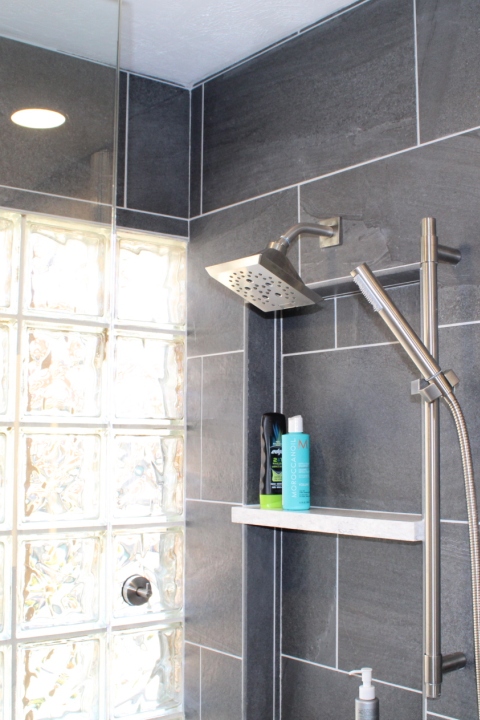 A modern wall created in 12″ x 24″ Virginia Tiles provided a beautiful contrast to a glass block exterior window. Tiles chosen were Breccia Silver Matte color.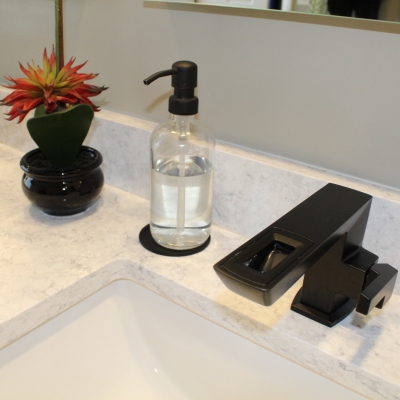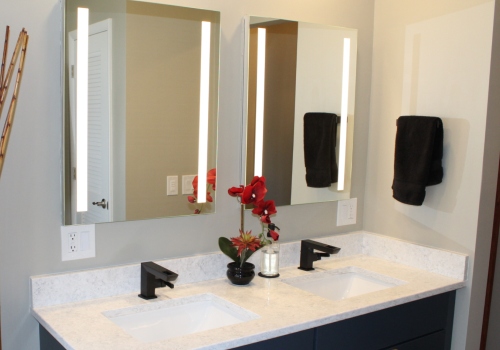 See Our Gallery Of
Custom Bathroom Designs
At Gerome's Kitchen and Bath, our team consistently brings professionalism and creativity to our interior designs. View the galleries of some of our bathroom remodeling projects below. Then, reach out to us to begin discussing your custom design project.
View our full Bathroom Gallery for more examples of our team's new bath designs. Click to view below:
Bathroom Remodeling: Modern Review
Read this customer's direct review of their bathroom remodeling project and their satisfaction in working with the team at Gerome's Kitchen And Bath.
Custom Estimates On Baths
Thanks to our experienced team and our state-of-the-art equipment, Gerome's Kitchen and Bath is the obvious choice for all of your home remodeling solutions. Cleveland residents have trusted us for bath design and installation for over 60 years. Contact us for a list of references, or request a bathroom estimate to have us start on your home remodeling project today!