Bathroom Design
A New Floorplan
In Twinsburg
Removing a whirlpool tub, crafting an interior linen closet, and installing a full wall tile shower with elegant glass door. The team at Gerome's created a new floorplan in Twinsburg when updating this master bathroom.
Excellent Product
And Workmanship
"The first few days they worked, we knew we didn't have to worry," said Michael and Evelyn W. of Twinsburg. Having lived in their 55-plus development for 10 years, the couple desired some updates to the master bathroom and chose Gerome's Kitchen And Bath to help with the remodel.
"We set up an appointment with Marc (Marvaldi, president)," Evelyn said. "He is very easy to work with. Very low key."
The project included removing a small half-shower from behind a bath entry door and replacing it with a new linen closet. A large garden tub was replaced with an elegant glass-door shower. The full-tile wall, bench seat, safety bar, and new fixtures created a showpiece master bath.
Having gone through the process of working with Gerome's, Michael said "you're confident that you've selected excellent products and workmanship." The couple was particularly impressed with two of Gerome's team members, Bob and Mike. "They were very friendly," Evelyn said adding both were knowledgeable and helped them understand all aspects of the project.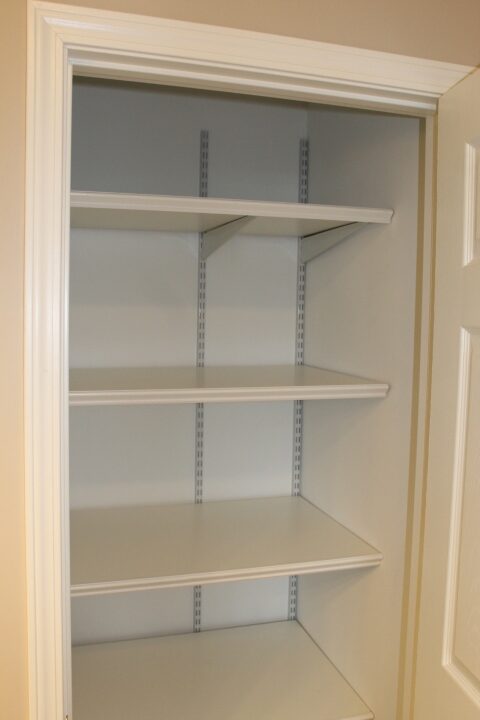 By removing a small shower stall, our craftsmen cut and installed shelving to create a new and efficient bathroom linen closet.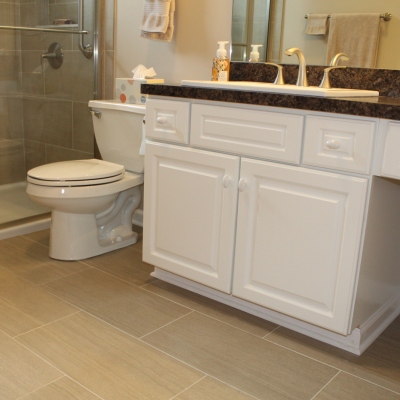 A new tile floor brings out a clean and contemporary look highlighting bright cabinets and an elegant countertop.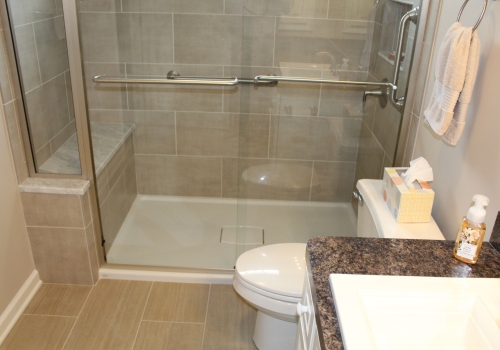 This new full tile shower has a wall shelf for bath soaps, a safety grab bar, and a bench seat for total comfort.
We Offer Top Brands
In Bath Design Concepts
At Gerome's Kitchen and Bath, we keep specific experts on our staff for this very reason, and we never depend on outside sub-trades for our talent. We use only high-quality, nationally known brands for our new bath design projects, and we are well-known throughout the area for our commitment to quality and detail. For an average sized bathroom, our team can incorporate different elements to create a new and clean setting. We incorporate each element (tub and vanity, faucets, toilets, fiberglass or tile tub surround, and flooring) to bring about a showroom and inviting look.
View our full Bathroom Gallery for more examples of our team's new bath designs.
Click to view below:
Custom Estimates On Baths
Thanks to our experienced team and our state-of-the-art equipment, Gerome's Kitchen and Bath is the obvious choice for all of your home remodeling solutions. Cleveland residents have trusted us for bath design and installation for over 60 years. Contact us for a list of references, or request a bathroom estimate to have us start on your home remodeling project today!