Creating A Strong Kitchen Design Strategy
No matter what part of the house is being redecorated, it's essential to pay attention to good design principles. Creating a strong design strategy is extra important in kitchen design. In the past, the kitchen was simply a place to prepare food. However, modern home structures have made the kitchen a central hub of home life, and arguably the most high-traffic and important room in the house. Often, it will serve as a dining room, a social area, and a generalized living space. It's best to keep this in mind when putting together a game plan.
Space For Comfort And Movement
The first step to designing a kitchen is for the homeowner to understand their family's habits. For example, if a family has meals together in the room, the homeowner will want to consider creating a wide dining area. This can be an open space for a table, or a more modern island flowing directly from the main counter. Either way, there needs to be plenty of space for comfort and movement. If the room is only used for cooking, then the design can be more oriented towards task efficiency.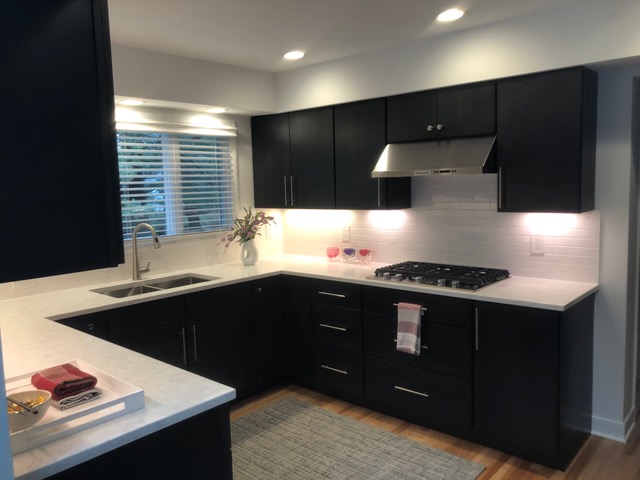 Kitchen Workflow And Cooking
Anybody who cooks will attest to the fact that a well-organized cooking area streamlines the whole process and makes their job far easier. Consider everything: countertop space; storage for pots, pans, and silverware; stove and oven placement; space around the kitchen sink; and easy access to the dishwasher and garbage disposal. Above all else, efficiency is key.
Storage Is Key To A Modern Kitchen
Storage is a key component of any modern kitchen. A walk-in pantry is a convenient storage space for dry goods. A built-in lazy Susan makes finding the right pots and pans simple and easy. Of course, every kitchen needs ample cabinet storage for tableware, cooking utensils, and everything else. The style of cabinetry should also match the existing design throughout the rest of the home.
Lighting - For Task And Design
Lighting is an often overlooked element of good kitchen design. Task lighting under cabinets will illuminate the countertop workspace. Pendant lights are growing in popularity as another great source of task lighting, and also a point of visual interest, especially when hung over a center island. If a dining table is present in the kitchen, a candelabra fixture that casts ambient light may be best hung overhead.
Fortunately, a savvy shopper can find a wide variety of goods that, when used strategically, can drastically streamline a kitchen space. Seeking out advice from our design team may be the best way to determine how to utilize a space.