Beautiful Backyard
Stone Walkway
In Gates Mills
Our outdoor design team created a "hand-cut" backyard stone walkway, completing a beautiful entertainment space in Gates Mills. The 12″x24″ sandstone colored pavers complimented this picturesque setting, while providing a low-maintenance pathway connecting the home's exterior patio to an adjacent hillside wooden deck. Surrounded by trees and a flowing creek, this space is the centerpoint of neighborhood gatherings.
Custom Deck Designs
And Elegant Patios
Dreaming that perfect outdoor event space starts with a design consultation at Gerome's. Our consultants can help create a truly functional backyard space that family and friends will enjoy for celebrations to come.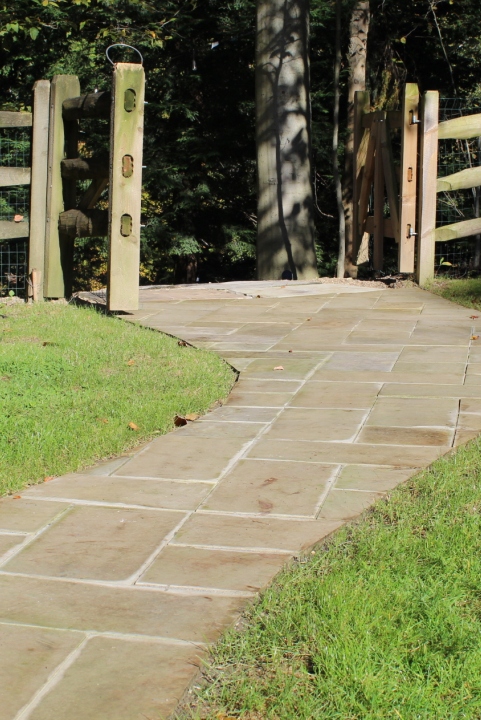 Our installation team designed and hand-cut all materials for this 100-foot walkway. Using these stones provided an elegant path matching the wooded surroundings with minimal maintenance.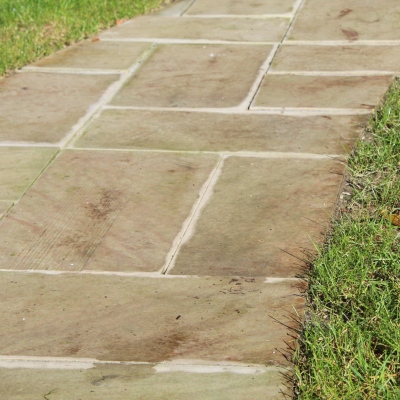 A recycled-concrete base provides a firm foundation to support the weight of these natural stones. Also, a complimentary polymeric sand mortar connects and holds each firmly in place within the path.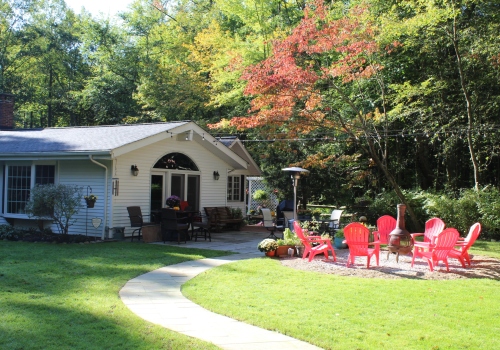 This beautiful backyard stone walkway provided a link between the family's rear patio to an adjoining Gerome's custom-built deck. This "wooded-area" octagon decking sits hillside above a running stream in the valley below.
Custom Estimates On Decks And Patios
Thanks to our experienced team and our state-of-the-art equipment, Gerome's Kitchen and Bath is the obvious choice for all of your home remodeling solutions. Clevelanders have trusted us for custom renovation and installation for over 60 years. Contact us for a list of references, or request an outdoor estimate to have us start on your home remodeling project today!
See Our Gallery Of
Deck And Patio Designs
At Gerome's Kitchen and Bath, our team brings the same professionalism and creativity to our outdoor designs. View the galleries of some on our patio and deck designs below. Then, reach out to us to begin discussing your custom exterior project.