Gerome's positive reviews and A+ Rating are well documented. When owners research Kitchen Remodeling Parma Ohio, our reputation is clear. Our pricing is competitive and our customer service is legendary.
Our Kitchen Designs Begin With Proper Planning
Planning and designing a kitchen is a complex process, and too many contractors fall short at one stage or another. Unreliable suppliers, defective products, low-quality materials, and questionable business practices are all too common. Gerome's Kitchen And Bath delivers quality, innovation, and an exceptional customer experience. By reviewing everything down to the most intricate details, and working closely with Parma homeowners, proper kitchen planning can help this process.
Key Factors In Kitchen Remodeling Parma
Unlike most kitchen remodeling contractors, we handle every aspect of the project – everything from permits to design – purchasing products to installation. We use brand name components which match your kitchen design and installation project. This includes fixtures, flooring, tile, counter tops, cabinets, and other elements that will transform your kitchen into one of the most beautiful rooms in your home.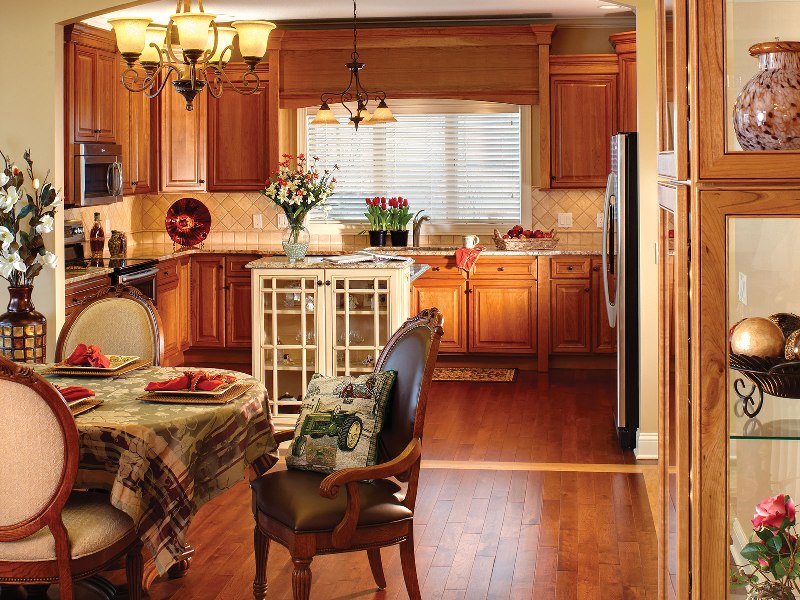 Distinctive Kitchen Cabinets – New Or Refacing Options
One first consideration when planning that Parma kitchen remodel is the task of replacing or renewing kitchen cabinets. Gerome's design team can offer a blend of beauty and affordability in kitchen design. Some of our frequently recommended cabinet solutions include:
Bertch Cabinetry
Kemper Cabinets
or Cabinet Refacing
 – Two Tone Traditional cabinets manufactured by Bertch Cabinetry pictured above.
Gerome's New Kitchen Remodeling Design Center
Offering "A New Look For A New Generation", Gerome's has opened a new Design Center at  38103 Euclid Avenue in Willoughby, Ohio. Our team can review both kitchen and bath design and installation options:
Gerome's Kitchen & Bath – additional online resources: