Most homes were designed with tiny bathrooms that seemed like an afterthought rather than a fully-planned room. The most common size is an 8-foot by 5-foot room that squeezes in the tub, toilet, and sink, not leaving a lot of space to move around. A small space design might be what you need to enhance that bathroom remodeling project. A proper Bath Design And Installation plan can improve functionality and even increase your home's value.
If you are considering a small bathroom remodel, Gerome's design team offers a few perspective's to consider:
Bath Remodeling Without Rearranging
There are many ways to redo a bathroom. In some cases, rearranging the plumbing, windows, and entrances is not an option. But, there are other small space design options to make the space feel bigger.
To refresh a tiny bathroom without knocking down walls, brighten it up. Avoid using dark paint or tiles on the wall. Using whites, pale purples, or even subtle yellows will make the space feel roomier, even though it's not. The lighter color opens up the room. Rich colors for the cabinetry and floor are a good way to create contrast.
Consider Adding Glass Shower Doors
Adding clear glass shower doors to the bathroom remodel is also a good way to make the room feel less cramped, especially if there is only a shower in the area. The occupant can see clearly through the door and feel less cramped when taking a shower.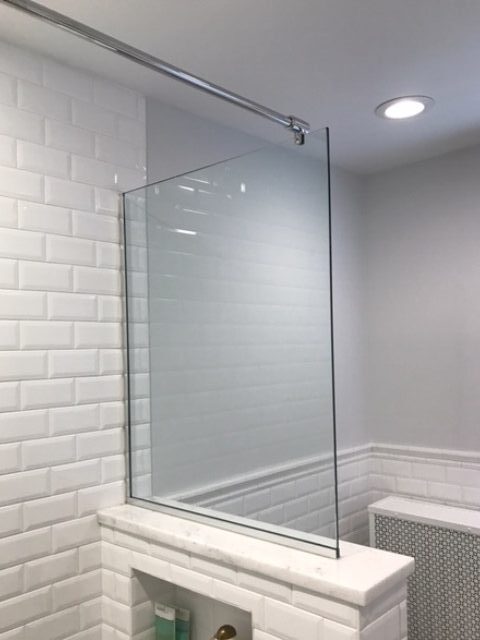 Moving Fixtures In Small Space Design
In some cases, the only way to make the area feel less crowded is simply to move things around. While this step should be left to a professional planner, the owner might want to look at the existing room and try to imagine it with things in different places.
For example, instead of having a full tub with a shower, a shower stall could take up less room. This would allow a contractor to move the toilet or sink to a separate area, making the entrance into the room less cluttered.
For those who are ready to take on a bathroom remodel project, contact Gerome's Kitchen And Bath. For direct help with planning that small bathroom project, you may also visit our Design Center.