Window View In
Willoughby Hills
Sometimes overlooked –  utilizing available light can really enhance a home makeover. The designers at Gerome's incorporated three casement windows and a skylight to create a dramatic master bathroom design. This window view in Willoughby Hills features a Jacuzzi tub, glass shower with accent tile wall, updated satin chrome fixtures, and polished black granite surfaces.
Bathroom Design and
Available Lighting
In this rural suburban home, our design consultants were able to utilize a bold window set to create a more open bathroom floorplan. The overhead skylight also creates an inviting view of each new bath element – a true showpiece.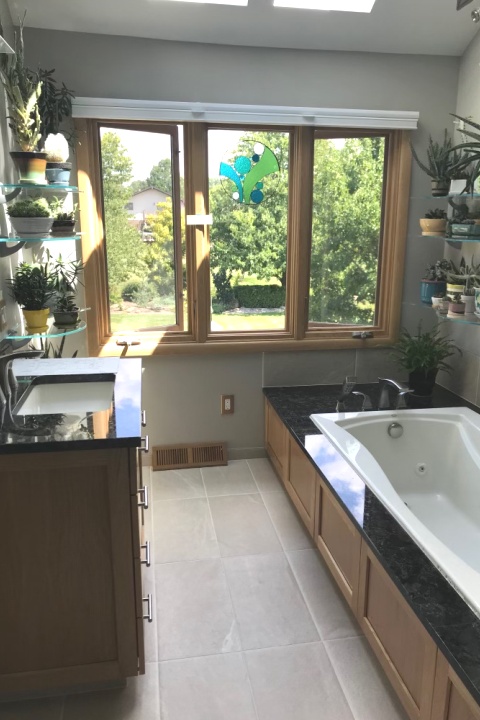 Our team at Gerome's can work within your current bathroom to create a functional and elegant new design and makeover.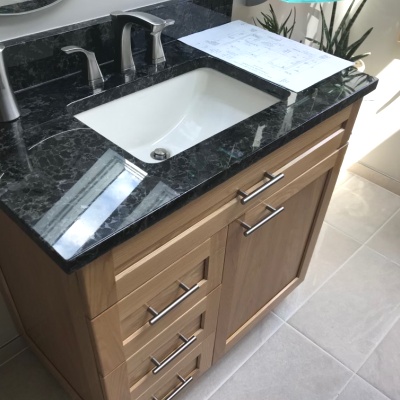 We offer an array of comtemporary cabinet styles and colors. Our design center offers a preview of available options.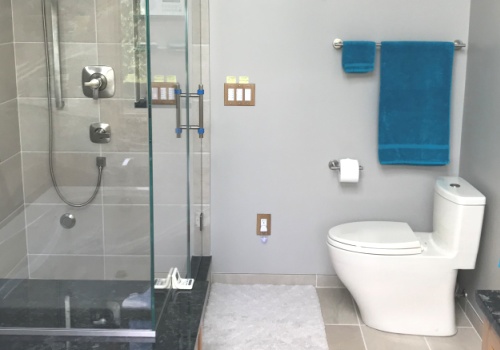 Our design build team took maticulis care in preparing a new tile wall. A bold glass door frames the new master shower.
We Offer Top Brands
In Bath Design Concepts
At Gerome's Kitchen and Bath, we keep specific experts on our staff for this very reason, and we never depend on outside sub-trades for our talent. We use only high-quality, nationally known brands for our new bath design projects, and we are well-known throughout the area for our commitment to quality and detail. For an average sized bathroom, our team can incorporate different elements to create a new and clean setting. We incorporate each element (tub and vanity, faucets, toilets, fiberglass or tile tub surround, and flooring) to bring about a showroom and inviting look.
View our full Bathroom Gallery for more examples of our team's new bath designs.
Click to view below:
Custom Estimates On Baths
Thanks to our experienced team and our state-of-the-art equipment, Gerome's Kitchen and Bath is the obvious choice for all of your home remodeling solutions. Cleveland residents have trusted us for bath design and installation for over 60 years. Contact us for a list of references, or request a bathroom estimate to have us start on your home remodeling project today!