Initial Kitchen Design Meeting
After working with three prior contractors who couldn't quite come up with what I was looking for, I contacted Gerome's to see what they may be able to offer.  At that point, I at least knew what I didn't want.  They contacted me right away and set up an initial discussion with the kitchen designer they work with and one of their carpenters.  After that initial discussion, Ted (the designer) created detailed drawings.  After a couple of options, we decided on one and then began working out the details.  Once the design was done, they set up a day where we started at the Gerome's location in Willoughby, looking at cabinets. We made a selection and then headed out to look at granite. 
Gerome's Did A Great Job Of Following Up
Once the choices had been made, demolition began.  They put up a curtain wall to contain the dust.  And in short order, the kitchen was mostly down to the studs.  Then the process began, first with the hardwood floors, then plumbing and electrical, cabinets, and then granite.  This was all done in the 'summer of COVID', so there were many challenges with suppliers.  George from Gerome's did a great job of following up.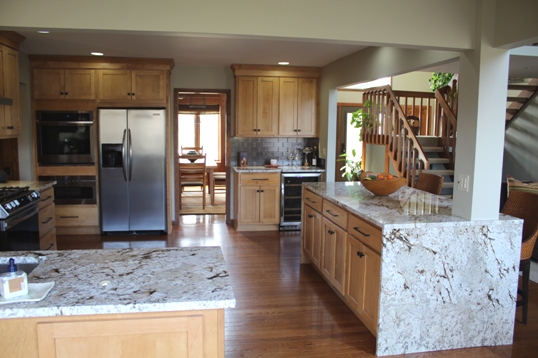 Design Review - Kitchen Craftsmanship Was Tops
I couldn't be happier with my new kitchen.  Because they opened a wall to the family room, the whole first floor feels much more open and entertainment-friendly.  The craftsmanship was top-notch.  Given that I was working from home the entire project, I want to commend them for handling my many questions, comments, and revised plans.
Highly Recommended For Remodeling
Their motto was "I'd rather you tell me now when I can fix it than later when it gets way harder to fix".  I really appreciate the sense of team, that we were all working towards the same goal.  
I highly recommend that you consider Gerome's for your remodeling needs.
Lee Scantlebury
Richmond Heights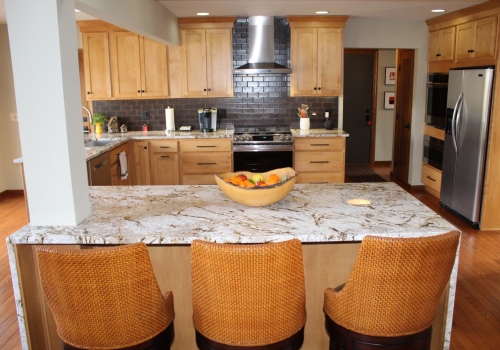 The above kitchen design review is one example of the many positive comments provided by past customers of Gerome's. For a complete picture gallery of Mr. Scantlebury's new kitchen, see the link below:
Kitchen design and installation can be challenging and can have a significant impact on the appearance of your home. Reach out to Gerome's Kitchen And Bath for more inspiration or design ideas.