Gerome's Bathroom
Remodeling Gallery
If you're looking to start your bathroom remodeling project, Gerome's Kitchen And Bath is a great place to start. At our new design center in Willoughby, you can review photos and images of our bathroom gallery, see various product displays, and begin the estimate process. Request an appointment today!
At Gerome's, our team brings creativity and unique designs to your home. When planning your bathroom remodeling project, know that SMALL ENHANCEMENTS can have a big impact. Our "powder rooms" become a conversation piece. 
Key Tips From Gerome's Designers
Bath Remodeling Pros
For Over 60 Years
Our team has been in the "bath makeover" business for over six decades. The craftsmanship of Gerome's Kitchen And Bath is something you'll be proud to share with family and friends. 
We Thank Our Customers
For Their Comments
At Gerome's Kitchen And Bath, nothing provides a better example of our work than the many positive comments and reviews from our satisfied customers.
"Gerome's completed our Bathroom remodeling project as designed and as estimated. Gerome's contractors were professional, courteous and demonstrated evidence of years of experience with their craft. We highly recommend Gerome's for Bath remodeling projects that one may be planning."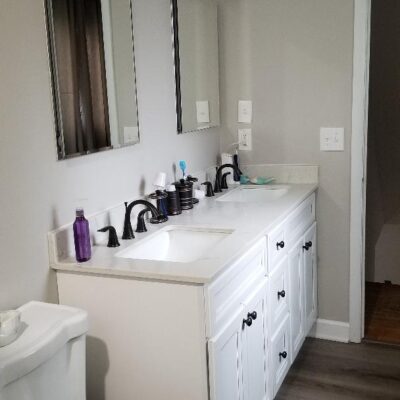 Begin your bath remodeling project by completing an online estimate inquiry. Our team will review your request and reach out to you with next steps.